Due to budget constraints and landfill guilt, I'm on a repurposing streak lately. When I look around Houzz, my eyes are peeled for interesting objects used in different ways. The other day I stumbled across a headboard made of old shutters and thanks to our handy-dandy keyword search function, I was able to find a slew of ways that architects, interior designers and design bloggers are repurposing
shutters
. Here are eleven you shouldn't miss.
As outdoor decor. The colors in these shutters pick up on the hues from the floor, walls and furniture, helping to tie it all together.
As a frame, of sorts. A small shutter makes a lovely backdrop for this simple clock. This idea could also be used for a group of small prints or vintage postcards. Also, note the way the colors of the shutter pick up the colors of the tiles.
To break up a wall. Battered shutters bring in age and ornament while breaking up this tangerine dining room wall. This is an especially effective trick in a house may be lacking in architectural details.
As a headboard. A composition of shutters becomes a tall shabby-chic headboard in this bedroom. I especially love this look for a pair of twin beds, using old-fashioned cottage shutters with little cutouts like pine trees, crescent moons and other shapes.
As a cabinet door. A weathered shuttered door adds patina and texture to this bathroom. If you're handy, you can find the shutter first and built a cabinet around it.
To add architectural details. Shutter doors add cozy charm and architecture to this beachfront condo's dining cove. I imagine shutting them when playing a good game of cards with family and friends. It could make a game of UNO seem more like a poker game in a saloon in the Wild West. Or not.
To punctuate a plain exterior wall. White shutters against this deep blue exterior pain, accompanied by French-style chairs gives this patio Caribbean flavor.
As a room divider (indoors or out). An assemblage of exterior shutters becomes functional decor in this Lowcountry coastal color palette.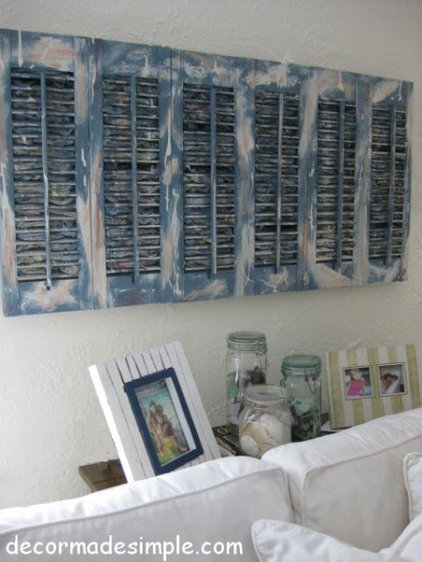 To replace artwork. The paint job on these shutters has an eye-catching marbled look. They are a textured 3-dimensional replacement for a print over the sofa.
Author:
Houzz Contributor. Hi There! I currently live in a 1920s cottage in Atlanta that I'll describe as "collected." I got into design via Landscape Architecture, which I studied at the University of Virginia. I've been writing about design online for quite a few years over at Hatch: The Design Public Blog.